ISO 27001: Out with the old - In with the new, 21 December 2022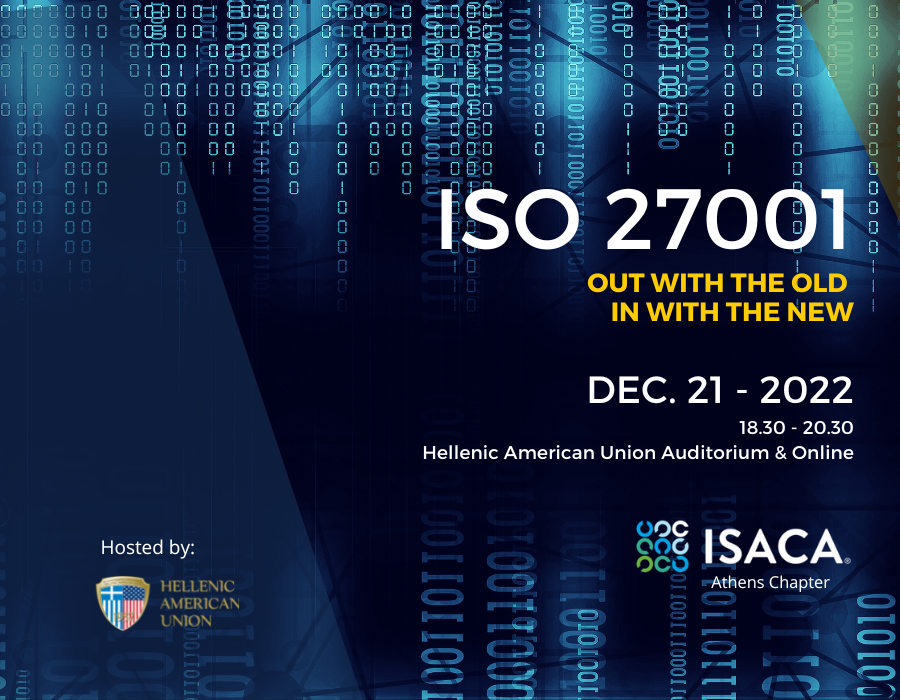 ISO 27001: Out with the old - In with the new
Hellenic American Union Theater & Online, 18:30 - 20:30
The ISACA Athens Chapter is organizing on December 21 an open to the public afternoon event on the new version of the ISO/IEC ISO 27001 standard.
ISO/IEC 27001 is the best known Information Security Management System (ISMS) standard worldwide. According to the relevant ISO survey, ISO/IEC 27001 holds the 4th position (in a number of certificates) worldwide, while in Greece it has more than 500 certificates (data of 2021).
In order to better meet the challenges of the digital world and to improve digital trust, the ISO Committee (ISO/IEC JTC 1/SC 27) issued on 25/10/2022 the new version of the standard (ISO/IEC 27001:2022).
This event aims to present:
The main changes to the key requirements of the new standard (clauses 4-10)
The way it is proposed to implement the relationship between the requirements and the Annex A controls.
The main changes to the Annex A controls
The timing of the transition from the previous version to the 2022 version for certified organisations
Speaker: Iro Chatzopoulou, CISA, CSX(P), Member Committee ISO/IEC JTC1 SC27 "Information Security, Cybersecurity & Data Privacy".
This event is offered by ISACA Athens Chapter with the support of the Hellenic American Union.