Be a Growth Hacker. Dive deeper into the technical side of Digital Marketing
Course dates: 7/3/2023 - 4/5/2023
Growth Hacking Academy is a super intensive 54 hour advanced digital marketing course designed by Growth Hackers and aimed at Growth Hackers at heart.
Learn tools and tactics on: Lead Generation, Automations, Social Selling, Content Marketing, SEO and more.
You'll get access to many real-world examples and programming code that you can use to automate your processes.
You'll join a dynamic community where you can ask questions and get answers from the experts, through exclusive access to our official Slack Team.
The experts behind the Growth Hacking Academy
This training is designed and offered by GrowthRocks in co-operation with the Hellenic American Union

GrowthRocks Is A Growth Hacking Marketing Agency that helps startups and well-established companies achieve rapid and sustainable growth.
The course is offered in Greek. See more information in our Greek page.
---
Become a "Π"-shaped Marketer!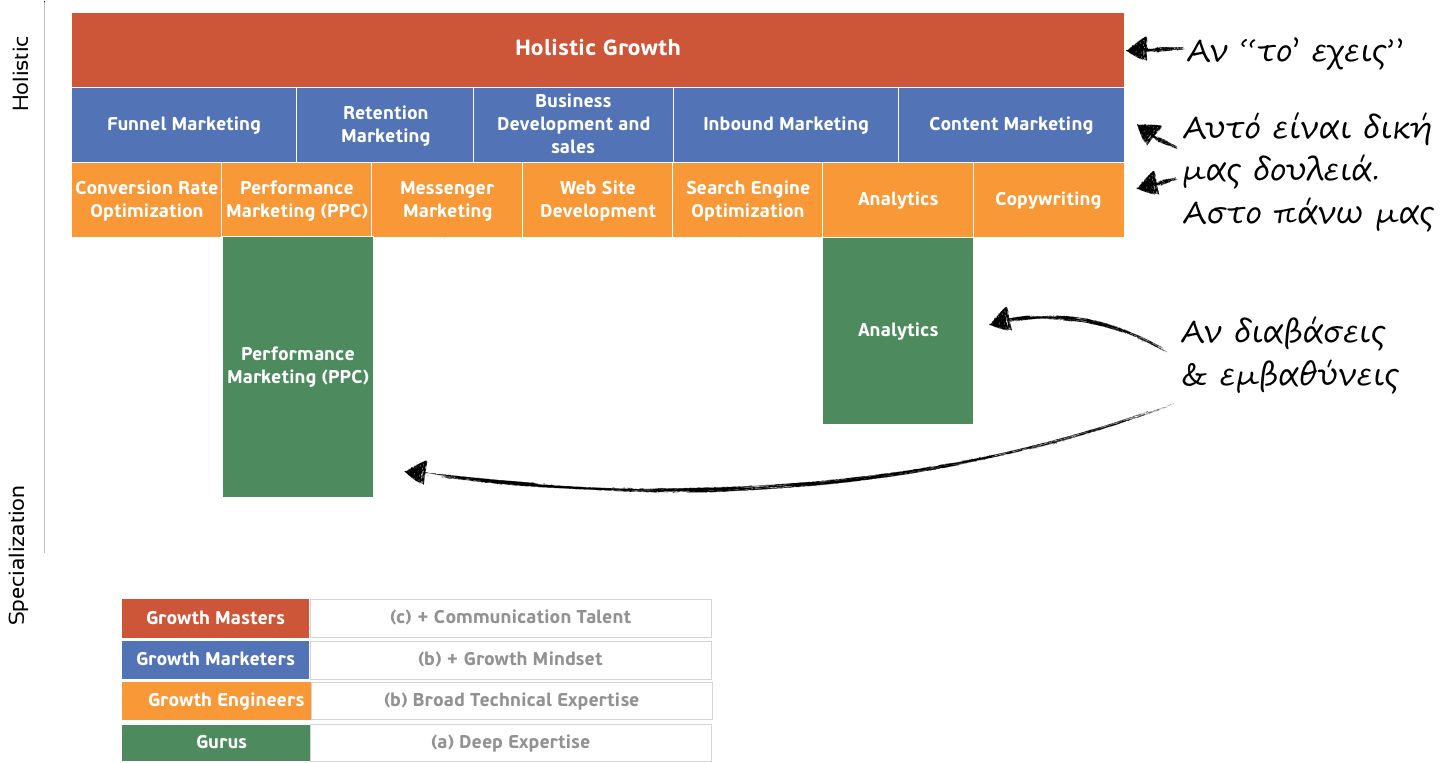 Who is a Growth Hacker?
A Growth Hacking is someone who:
has the ability to dominate the first page of google
has the ability to have control over paid spend
has the ability to adopt all new technological trends earlier than others.
has the ability to "Monitor the performance" of his company,
knows where to find audience via inbound channels
knows many ways to convert visitors into customers
achieves better performance with less resources
A Growth Hacker lives for data, loves technology, sets goals and continually optimize them, loves action, and doesn't get discouraged by failure.
---
Growth Hacking Academy is specifically designed for aspiring Growth Hackers who are now:
Experienced digital marketers
Certificate/Diplomas/Degrees in Digital Marketing or Marketing graduates
IT professionals, sofrware developers, software engineers that would like to better understand the technical side of digital marketing and make a shift in the career
Startuppers in the field of digital marketing who need to grow their business fast.
Marketers who need to supplement their theoretical knowledge and their marketing skills with digital tools and techniques and practical strategies
Is this program for me?
---
Intro to Growth Hacking
Growth Marketing Funnels
Web Properties -
Build your Inbound Marketing Stack (Part 1)
Build your Inbound Marketing Stack (Part 2)
Marketing Automation
Building Marketing Automations
Growth Plans
Lead Generation via Social Selling
Lead Generation via Other Platforms
Lead Generation via Web Scrapping
Lead Generation via Viral Marketing
Lead Generation via Content Marketing
Data Analysis & Modelling
Data Reporting
Data Visualization
The Deposition - build your growth team
See how we developed this syllabus (a case study)
---
Theodore Moulos
Group CEO, GrowthRocks, Serial Entrepreneur & Investor, International Speaker
Ο Θοδωρής Μουλός έχει πάνω από 20 χρόνια εμπειρίας στη διαχείριση επιτυχημένων και επικερδών προϊόντων λογισμικού. Αυτήν τη στιγμή είναι ο Group CEO δύο ανερχόμενων πολυεθνικών εταιρειώ ...
Learn more
---
Happy students say about us
All in all, it was a great seminar with great people and lots of knowledge. It is essential for those who work in the digital marketing sector as its a whole new era but pretty connected with a blend of marketing mindset and the right use of the growth tools. Thank you Theo for the great mindset as well as the tools you delivered. I am pretty sure that we will see each other in the nearly future. Ioannis Mavridakis, Growth Marketing Specialist at efood
The seminar was really complete and gave me new tools for my work. It presented me things I was unaware of and suggested where I should focus and deepen to do better the job I have chosen and love. Theodoros has excellent communication skills and is very engaging. A really interesting and commited professional who sets the example for all those who want to be called experts in the digital marketing community. Maria Plakomiti, Sales & Marketing Manager at LeatherTouch
Amazing learning experience! underestimated value. Stratos Gkatzios, Lead Generator Specialist at Digitale - B2B Digital Agency
Keep sharing your awesome practices and tool! Chris Stergiopoulos, Freeland Digital Marketer
Εκπληκτικό πρόγραμμα, όχι μόνο εξαιρετικά οργανωμένο αλλά σου διευρύνει τους ορίζοντες και σε εφοδιάζει με τεχνικές και εργαλεία που δύσκολα βρίσκεις στην αγορά. Πιστεύω ότι είναι τόσο σημαντικό που αν γίνει σε μεταπτυχιακό επίπεδο σίγουρα θα είμαι μέσα στους πρώτους που θα δηλώσουν συμμετοχή. Όλγα Πάτση,
Μέσω πάρα πολλών παραδειγμάτων για το κάθε tool που είδαμε στο Academy, αποκομίσαμε και πρακτική εμπειρία, την οποία μας πέρασε ο Θοδωρής Μουλός και οι Guest Speakers. Εξαιρετική ομάδα! Στέφανος Δρόσος, Digital & Social Media Marketing
Upon completion of the program, participants will receive a Certificate of Completion from the Hellenic American Union and GrowthRocks.
Our alumni are part of a dynamic community where they can refer to for advice, networking and more training through a special slack group led by Growthrocks team.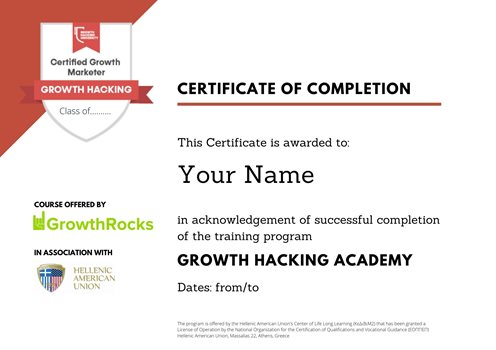 .
---
You can register, or have your employer register you up to one day before the start date of the program if there are still available places. Add the program to the shopping basket. The first time you place an order you need to register. For company registrations please check the box "I am booking on behalf of my company". Then, you fill out your personal details and you select an invoice or receipt to be issued. Then you must pay the tuition fee. Payment is available by:
a) debit, prepaid, or credit card (interest-free installments will be visible if available),
b) Bank payment ID, that you can use to pay at the bank or via ebanking. If you register as an individual you can pay €50% upon registration, while the remainder is due until the start date of the course. If you issue an invoice, the full fee must be paid upon registration,
c) IRIS and direct debiting your bank account. (no installments are available through this method of payment)
Please note that once you successfully place your order you will receive an automated confirmation message. This does not mean that your registration is complete. Your place is reserved once you pay the relevant tuition fee. When payment is visible, we will contact you to confirm your registration.
Special discounts apply to our Digital Marketing Courses Alumnus. Contact us at 210-3680911, or training@hau.gr to learn more.
Zoom is a web-based video conferencing tool, compatible with Mac, Windows, Linux, iOS, and Android, that allows users to meet and attend classes online. You can use Zoom from your PC or laptop, but also from your iPad or smartphone. You will have to download Zoom to one of your devices to be able to attend this program. We will send you a step-by-step guide once you register. If you use your PC or laptop you will also need a webcam, microphone, and speaker. Most computers have a microphone and speaker, but you can also use a headset with a microphone for better sound quality.
The seminar can be organized exclusively for your company, if there is a group of people who wishes to attend. The content, dates, and schedule will be tailored to your employees' needs.
You might be interested ...