PM² Certifications
Project Management
PM2 Alliance, a non-profit professional certification body founded by PM2 practitioners, has developed a three-level scheme of professional certifications aligned with the PM2 Methodology.
Hellenic American Union offers preparation courses and the examinations for the Level 2 - PM² Essentials Certification only.
The 3-Level PM2 Certifications are: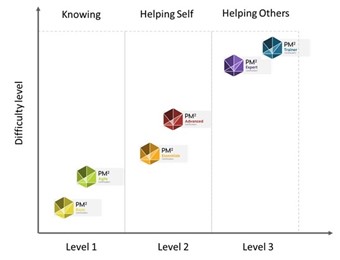 ---
---
The PM² Methodology (read P-M-squared) is a project management methodology developed, supported, and employed by the European Commission. It is also used by many other European institutions, as well as large and smaller organizations in the private sector.
PM² is a simple and easy-to-use methodology that combines well-known best practices derived from the experience of European institutions in managing thousands of programmes, projects and grants.
---
PM2 Essentials is a Level-2 certification and a popular entry point to the world of PM² certifications. It is suitable for anyone leading or participating in projects, regardless of their specific domain of application. This Certification is designed to confirm candidates' understanding of key concepts of the PM² Methodology.
Prerequisites
There are no formal prerequisites for the PM² Essentials Certification exam. Α PM2 Essentials prep course is highly recommended to get familiar with the methodology and be better prepared for the exams.
Exam Format
Multiple choice questions
70 questions per exam
60 minutes duration
At least 50 questions need to be answered correctly to pass the exam
One mark awarded for every correct answer
No negative marking for wrong answers
When and where can I take the exam?
You can take the test online from anywhere you want through online-proctoring at a time of your convenience.
How to apply
You apply online at www.pm2alliance.eu
---
Founded by PM² practitioners, the Alliance brings together individuals from institutions, companies and the academia to inspire dialogue, share resources, and address the field's challenges while promoting the wider adoption of the PM² Methodology.
---
When and where can I take the test
You may take the test anytime, anywhere.
Online exam availability at a Pearson-Vue Center.
Online exam availability from anywhere (online proctoring).
Once you pay your exam fees you are ready to schedule your PMP exam anytime, either at a Pearson-Vue Testing Center or even from your home, through online-proctoring at a time of your convenience.
How do I apply for PMP?
You apply online via the PMI website at www.pmi.org.
Once you start filling in your application, you have 90 days to complete it.
---